Straightening a bent Jeep axle
Straightening a Bent Axle Housing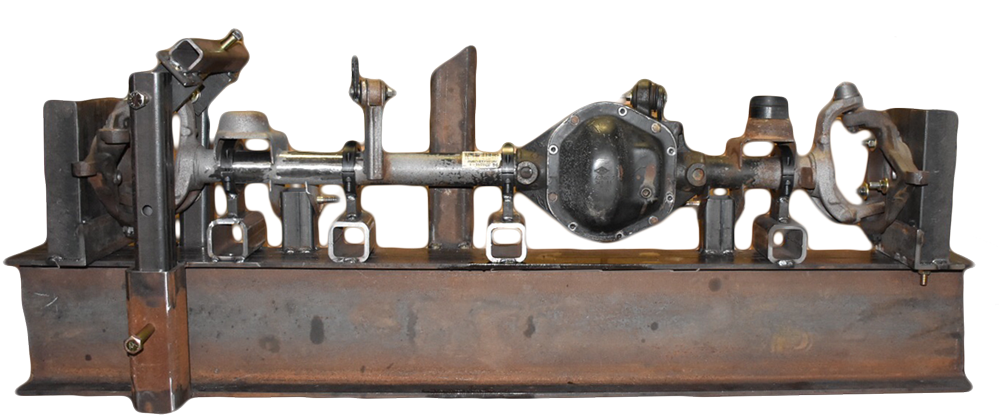 The 4x4 Center of Vermont knows Jeeps. We have 7, Jeep Wrangler Rubicons that we run at our Training Center and over the years, we have bent the front axle in every single one of them. The first time this happened, we ordered a brand new G2 Axleƒr Housing for about $2,000. The next time it happened we built the Jeep Axle Straightener; and fixed the axle ourselves. Saving hundreds of dollars on that single repair, and every one thereafter. Now that we have tested it, we're ready to straigten your axle if needed.
The Jeep Rubicon Dana 44 axles are succeptable to bending. This does not mean there are issues with the vehicle or these axles. In fact, under "normal driving conditions" these axles work great. We normally begin to see axles bending after they get loaded with oversized tires. The larger tire creates a lot of extra force on the axles and bending can occur for a number of reasons such as rough roads, pot holes, and off-road use. The sooner a bent axle is identified and dealt with, the easier the repair will be to make. The longer the issue goes unsolved, the more succeptable the axle will be to additional damage.
How to know if your axle is bent?
The question of whether or not the axle is bent will likely come up during a standard alignment. Actually verifying the issue and figuring out what to do next gets a bit more complicated. The way we do it is, we put your axle on the jig, and it shows us where the bend exists and the extent of the bend. Keep an eye and ear out for these common issues which will provide an indication that your axle may be bent:
Regular oil leaks from axle seals.
Uneven tire wear.
Difficulty with front end alignment.
Axle shafts may display "rings" on the shaft where there are no seals.
It is necessary to run off set ball joints.
What to do if you think your axle may be bent
Simply give us a call, let us know, and we will test it for you!
What does The 4x4 Center do when repairing a bent Dana 44 axle?
Since bent axles are almost exlusive to the off-road entheusiast, when we encounter a bent axle we fix it for good. That means we address multiple weak points in the axle housing that may bend later, if they are not already bent.
Axle Tubes are reinforced with a 1/4" inner sleeve that is welded into place at the axle C, and rosette welded along the entire axle housing.
The axle C is checked for vertically and horzontally, any bends are addressed and corrected. Then, "Inner C Gussets" are added to the axle to strengthen the axle C.
We inspect and replace your Trackbar mount as these commonly tear with off-road use. You can see our custom trackbar mount in this photo (right), next to the torn factory mount that is on the left.