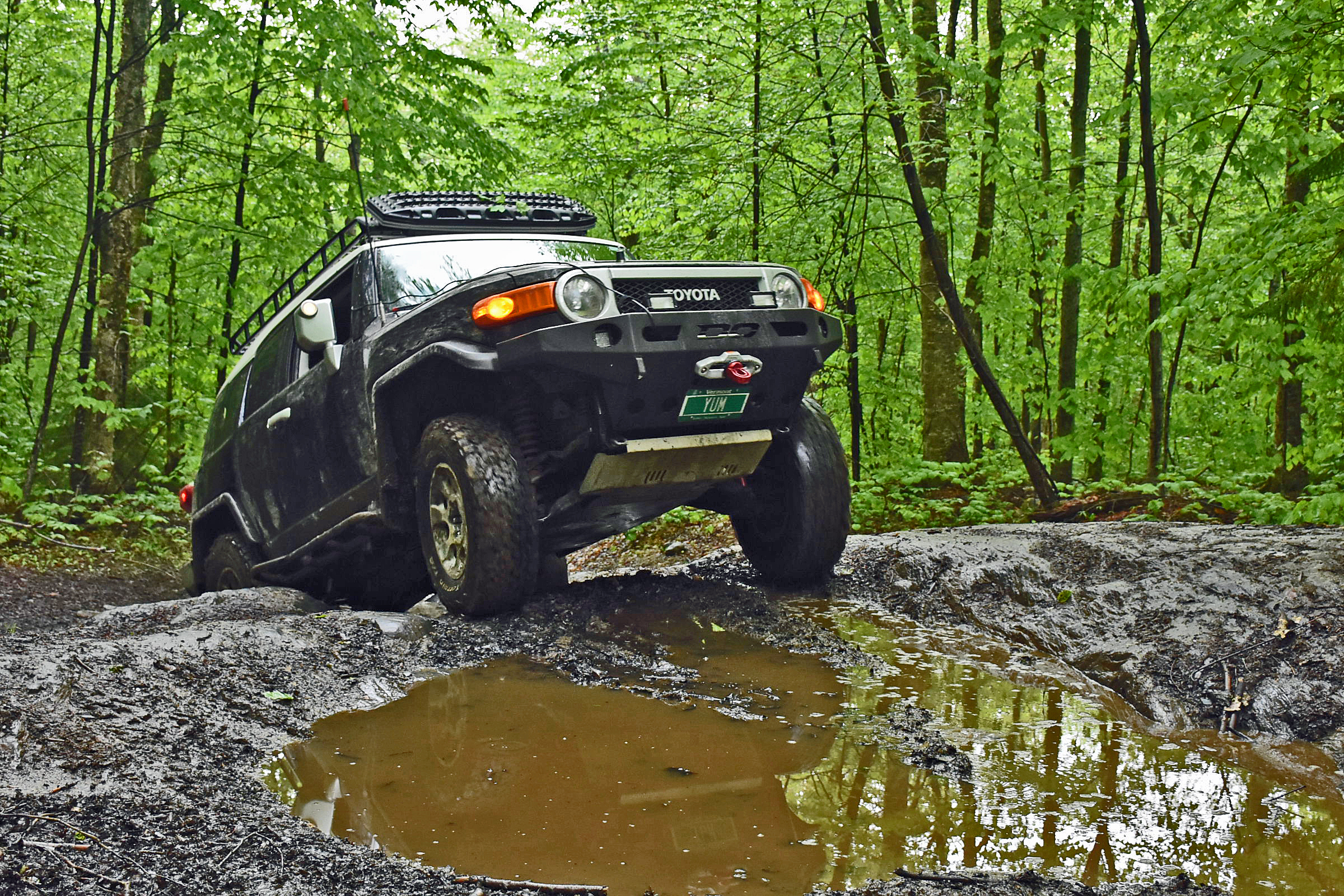 "Raven" - Grayson King's FJ Cruiser
"Raven" - FJ Cruiser
It was never meant to be a means to an end, a hobby, or even anything remotely close to what it has become but, when Grayson King's wife got a new job, they needed another vehicle… Little did he know, the journey to find a new vehicle would turn into a thousand expeditions.
First, let's rewind a little. Grayson is an Electrical Engineer who's never really considered himself to be a "car guy" or a "motor head" but, he's definitely the outdoors type. You'll catch him windsurfing on Lake Champlain, backcountry skiing, and white water kayaking among many other adventures. With all this gear to haul around, wagons like the Subaru Outback have always been his thing – load them up with gear and friends, to set off for an adventure. Grayson's journey into the back roads of Vermont started with a trip out west with his wife and friends. They rented a camper van and a dual sport bike to do a bit of camping in Utah. On this trip Grayson learned that when you go "glamping" in a van, you can have all your comforts and gear, right there with you. This dramatically increased the range of activities they could participate in and extended the amount of time they could "be out there." Little did he know, how this trip would change his life.
Fast forward, his wife is getting a new job, they can no longer carpool, and Grayson needs to find a vehicle. Instead of going for another wagon, he figured, I really liked the camping stuff so, maybe a 4x4? After looking around, he landed on a practically new 2013 Toyota FJ Crusier with around 15,000 miles on it. His passion for Overlanding quickly developed after joining the Vermont Overland Club where he still attends several rides a year. Grayson tells us that he has found a "flow" in Overlanding that is similar to the other activities he enjoys. While all these activities are very technical in nature, so is Overlanding, there is a zen and freedom to being out there in the woods, finding the line you need to overcome an obstacle, and the excitement that comes with the adventure. This flow, is where Grayson finds his happy. Not to mention, he can load all his gear and still have room for more.
Q&A with Grayson and "Raven" (the FJ)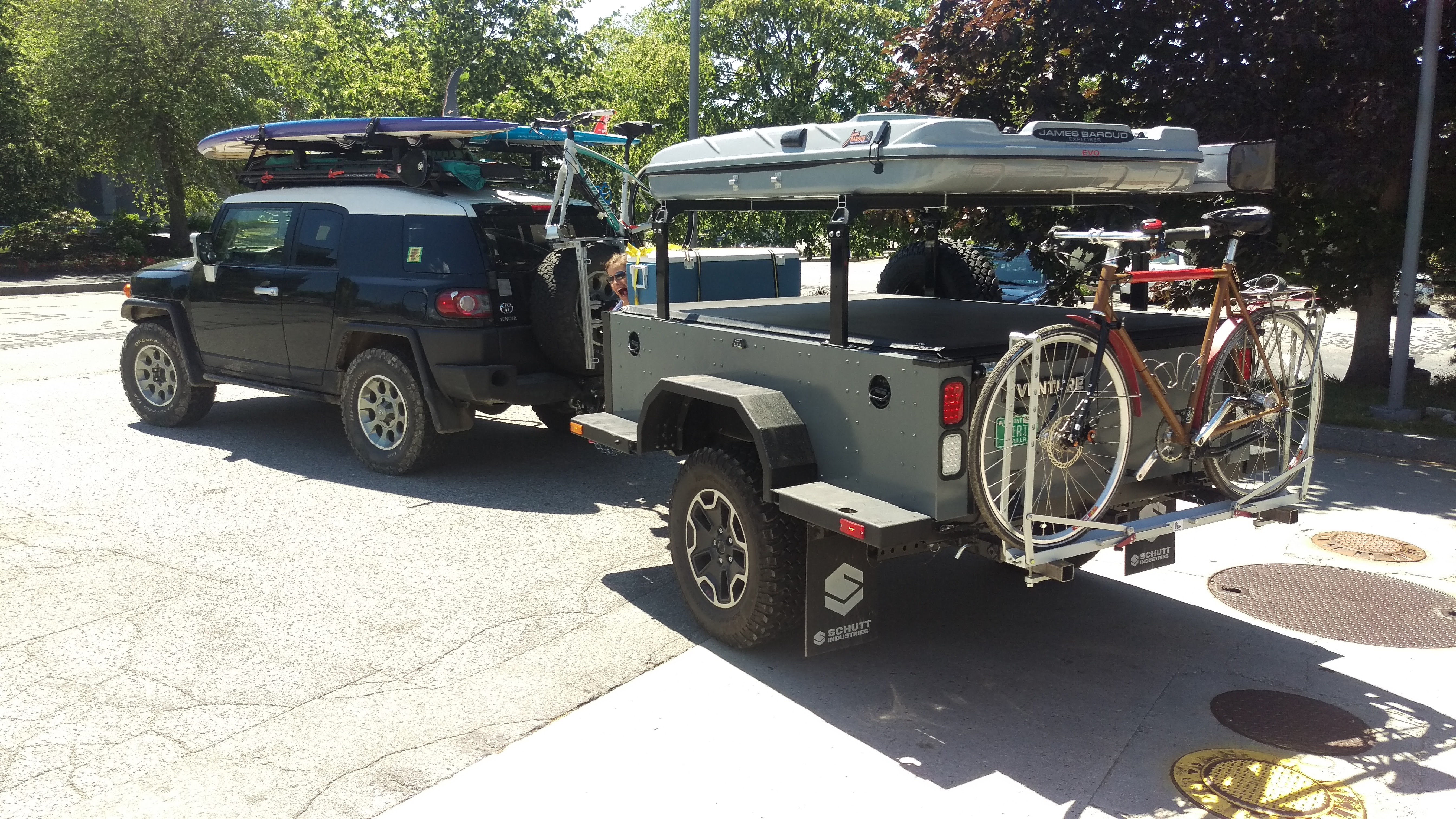 Q: You were recently in at The 4x4 Center having a bit of work done, what's new?
A: I take a lot of pride in my FJ and like turning the bolts myself so in a way, I've kind of become a gear head but, some stuff is better left to those that do it for a living. On this last trip we installed a 2.5" Toytec Boss Lift with coilovers and bump shocks. Unfortunately I haven't been able to get out to test it out yet but, the road ride has really improved, there's more room to work on it now, and I can't wait to get back out.
Update: Following the shake down run, we've determined that the Toytec 2.5" Boss Suspension Lift provides a far more comfortable ride both on and off-road! Small potholes and back roads, no problem! Very, very, very happy with this lift choice!
Q: You mentioned that the FJ was your families "second vehicle," is it still a daily driver?
A: Yes, it's still driven daily! Not only is that part of the excitement but, it's part of the challenge in Overlanding.
Q: Your license plate is "Yum" what does it mean?
A: This comes from a book I read many years ago, Tom Robbins – Still Life with Woodpecker, there is quote in the book that I felt defined me and it's stuck with me.. It reads "There are only two mantras, yum and yuck, mine is yum."
Q: Where do you wheel and who do you adventure with?
A: I really enjoy getting our with the Vermont Overland Club a few times a year, they're a lot of fun, and great people. I've also made a few friends and had some old friends joing the sport too so, between our friends, we get out to adventure on Class 4 Roads and other legal trails around the state.
Q: What has been your favorite modification so far?
A: This might sound silly but, in an FJ when you turn the thermostat all the way to cold, the A/C automatically kicks on. That's not always what I want so, using a laser machine at work I created this little circle that stops the dial before the A/C kicks on and, it still allows me to turn the A/C on when I want it!
Q: What do you think your next modification might be?
A: I'm currently looking at ways to lighten and expand the functionality of my jack system. I got rid of the High Lift because it was clunky and hard to operate and I now carry 2 Toyota Bottle Jacks, the two stage ones. They work really well, lift pretty high, and I've made several attachments that allow them to lift the vehicle similarly to how a High Lift would.
Q: What has been your favorite Overlanding tip so far?
A: I spent 6 days Overlanding with friends in Utah, 6 days, no pavement! We ventured out into the Maze District of Canyonlands National Park which definitely felt like the furthest you could get away from the civilized world. We had out mountain bikes, camping gear, and it was an amazing experience. It really reaffirmed why I love Overlanding so much!
Let's take a look at the vehicle and modifications; you can view additional pictures here and a "An Engineers Build," here.
TIRES & SUSPENSION: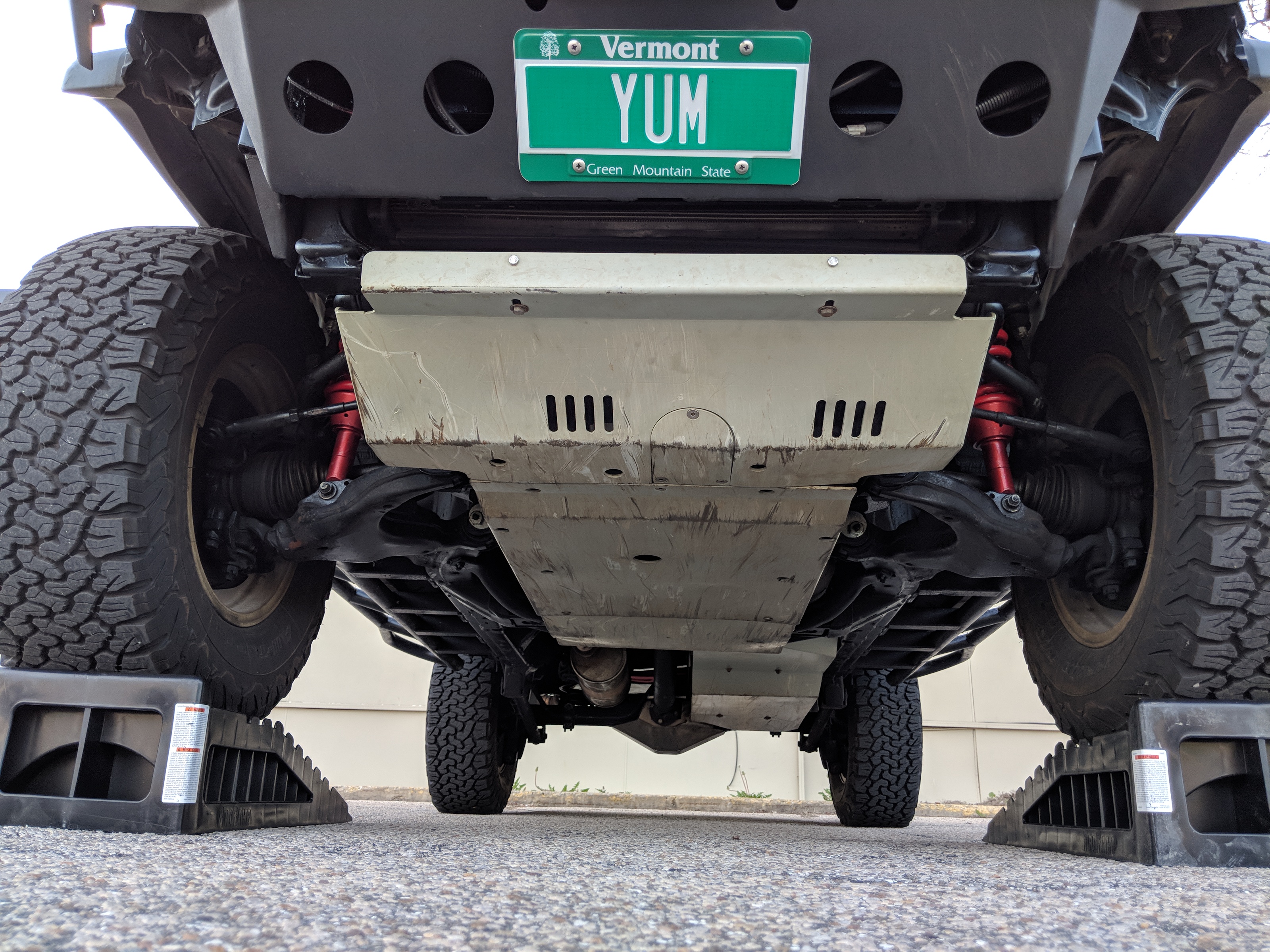 BFG T/A KO2 285/70R17 (33"×11")
SPC front UCAs
ToyTec Boss 2.5" coilovers
ToyTec Boss 2.5" rear shocks
ToyTec "HD" rear coils
Metal-Tech offset rear lower links
Timbren bump-stops front & rear
BUMPERS/ARMOR/WINCH/ETC: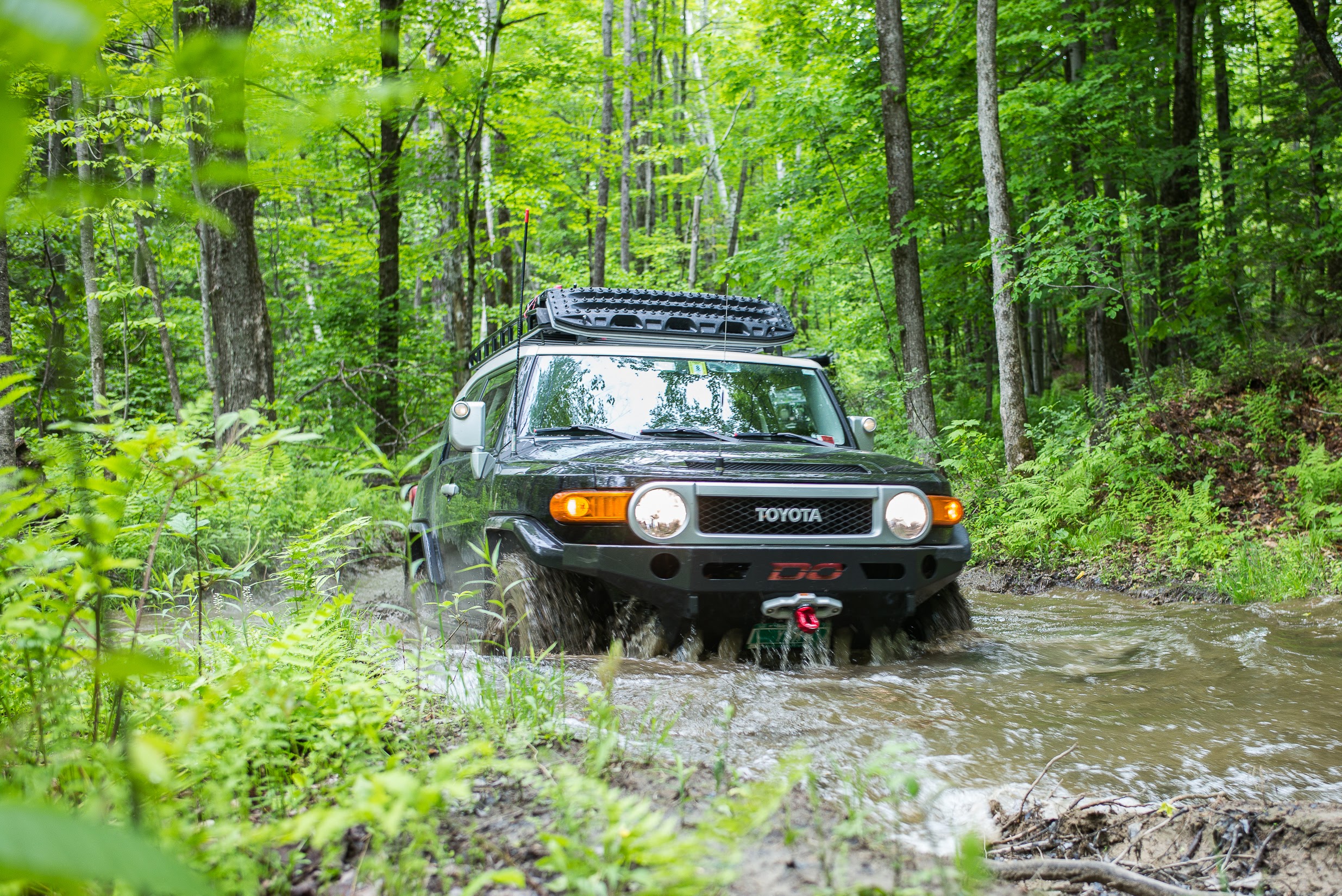 Demello aluminum bumpers front & rear
Warn M8000-S winch + "Splicer" thimble
All-Pro Heavy Duty rock sliders
BudBuilt steel skid plates (4-piece set)
BudBuilt stainless rear diff skid
Icon "shin guard" rear shock protectors
OPOR "link guard" rear LCA bracket skids
Breather mod for rear diff & e-locker
CARGO MODS:
Semi-custom BajaRack
Full-custom MAXTRAX mounts
Full-custom DIY cargo drawers
Full-custom "2up" rear bike/cargo rack
Demello steel hitch receiver
Brake controller + trailer connectors
LIGHTS: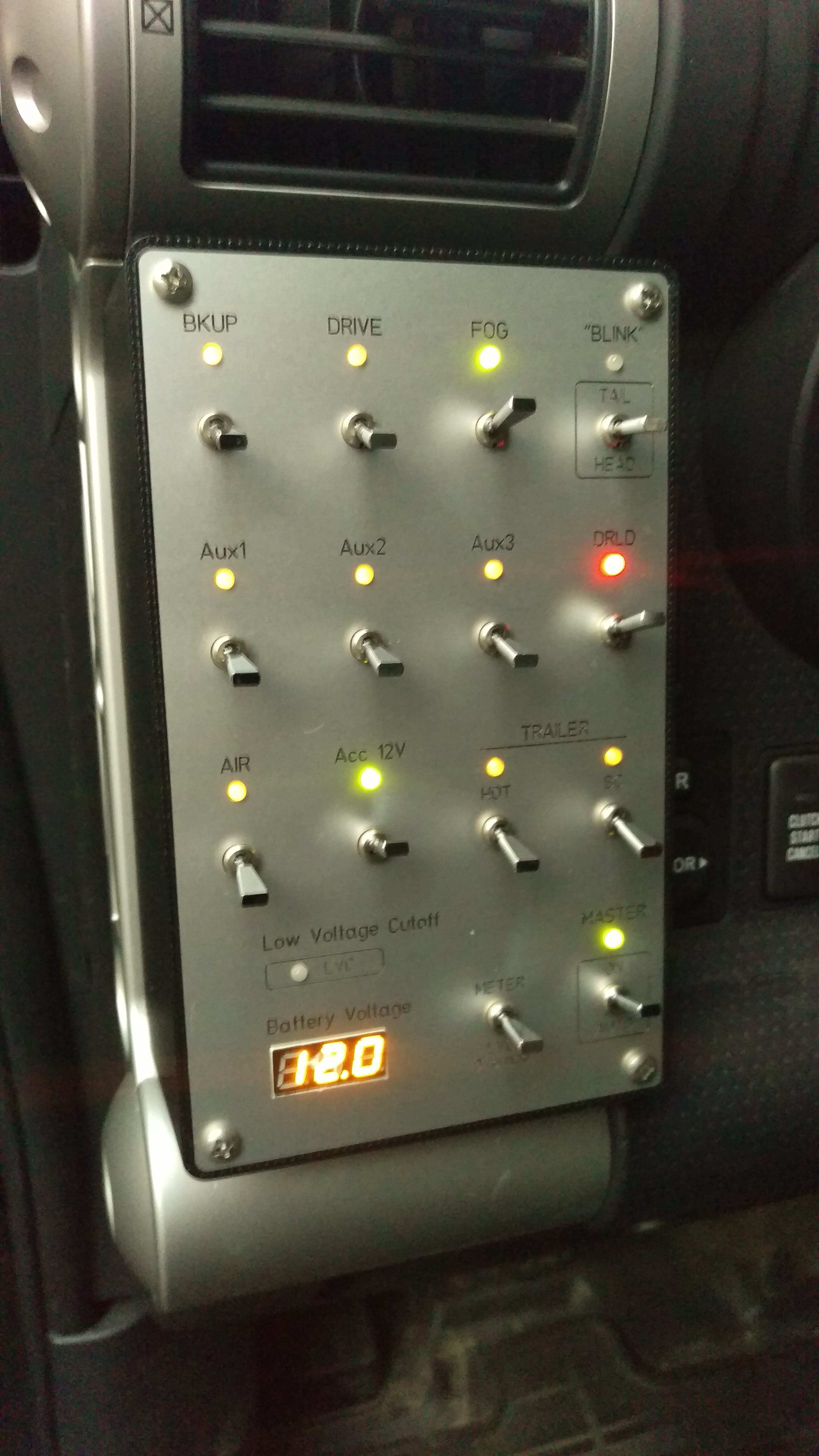 Rigid SAE LED fog lights & backup lights
Cheapo chinese flood-beam drive lights
Sylvania SilverStar Ultra headlight bulbs
Switch-controlled DRL-disable + "BLINK" mods to factory lights circuits
ELECTRICAL:
Odyssey 31M-PC2150ST dual-terminal battery
Full-custom "BatTerm" battery terminal distribution blocks
Full-custom "AuxPower" relaybox / switchbox aux power system
Anderson PowerPole distribution block & outlets for interior 12V power
Anker 5-port USB power hub
COMMUNICATIONS:
Midland MXT115 GMRS radio
Midland MXTA10 GMRS antenna on NMO mount
Midland 75-822 CB radio
FireStik FS-3BK CB antenna at OEM radio antenna location
Antenna diplexer (one antenna for both CB + AM/FM radio)
CREATURE COMFORTS:
Wet Okole front seat covers
Adhesive fisheye blind spot mirrors
Fresnel lens windshield add-on for traffic light visibility
Custom machined dash device bar w/ magnetic mounts
Custom laser-cut "MAX A/C STOP" plate See other photos for details on most of the above mods.
Shakedown Run Photos