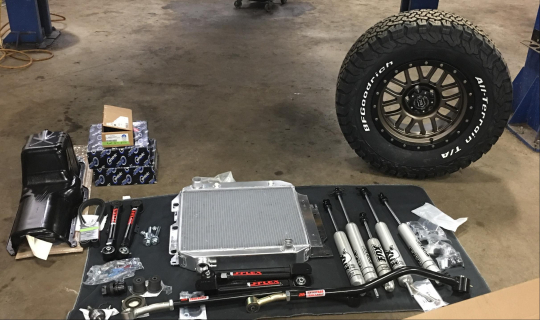 2003 Jeep Wrangler TJ - Repairing & Replacing an Unhappy Lift
When this Jeep TJ came into us it just had a brand new lift installed in it and unfortunatly, the customer was not happy with it. Many people say a wrangler rides like a hay wagon, if you want one, you gotta get used to it. In many cases that doesn't have to be true - the factory suspension is ok, but once you begin modifying it, one of two things happen - that ride gets much better or it gets much worse. Issues you didn't know you had before could come to surface due to the changes in driveline geometry and the addition of larger tires. What happened here, was a little bit of all that coming together and it made the ride very uncomfortable and saddening to drive for the customer.
Here is what we noticed on our initial inspection
The front tires were very cupped and loud - a sign that proper alignment may not have been done at the time of installation
The radiator was leaking, oil was seeping from many of the engines seals, one side had bad ball joints, the upper control arms were still stock, and many of the bushings were splitting. It may not seem like a big deal but, some of these items could leave you stranded on the road, and the control arm issues could lead to death wobble. (and no one wants that)
Vibration on vibration - Everything seemed to vibrate. This often happens with inexpensive lifts over 2.5" tall but, it's very repairable.
We were on the same page as our customer and just wanted them to be happy, after reviewing what good pieces the lift had and what parts would be needed to make a better ride. At the end of the day, this turned in to a bigger build than we expected, this is what we ended up doing for them:
All seals & leaks fixed
Installed JKS Control Arms front and rear so we could dial in the proper driveline angles, making the ride smoother
Replaced OEM Track Bars with JKS Premium Track Bars and fixed the ball joints which allowed us to bring the vehicle back into alignment and thereby saving the next set of tires from cupping
Replaced muffler and cat back with a full stainless system (small holes found, likely would not have passed the next inspection
Mount & Balance 5 new 33" BFG AT TA KO2s on new 17x8.5" Icon Alpha Black & Bronze Wheels

A brake job while we were under there

FOX & BDS Shocks added Front & Rear for the correct 4" Lift - this helps remove a lot of the hayride
Slip Yoke Eliminator Installed to eliminate driveline vibrations
FOX Steering Stabalizer to dampen the new larger tires
Both pinion seals were seeping and replaced
A new aluminium radiator replaced the old leaking one
This Jeep, now drives like a dream!