Fleet Services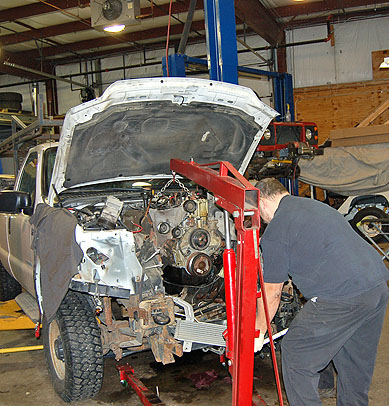 Whether you have two vehicles or two hundred, The 4×4 Center is the perfect partner to help maintain your fleet. Our expertise and state-of-the-art facilities put us in a unique position to offer your business better service, top quality, and fast turnaround at a competitive price.
Equipment downtime costs you money, so The 4×4 Center practices a system of comprehensive diagnostics and prioritized maintenance. This is a proactive, preventative approach to servicing vehicles that our clients have come to value highly.
When you bring a vehicle to us, The 4×4 Center uses the latest diagnostic technologies, including a special computerized database to catch problems early. We give you a complete list of necessary repairs and maintenance, then work with you to prioritize jobs based on the daily use, expected lifetime of the vehicle, and your budget. We don't "cherry pick" jobs, performing the easy work and ignoring the challenges. We never begin any work without giving you a full explanation and cost estimate for what we intend to do.
The 4×4 Center services anything from a 2WD van to a 4WD medium duty truck, and performs every auto service from an oil change to an engine rebuild.
Our fleet services include:
Discount fleet labor rate
No minimum hourly fees
Immediate Repair for small repairs (based on parts availability)
Minimum notice oil change program with multi point check.
Notification of scheduled service with estimate
Notification of Vermont State Inspection
Coolant and transmission flushes
Mount & balance (4 tires)
Diesel and Gas Engine Service
Transmission Service and Repair
Electrical Diagnosis
Axle ring and pinion building
Break line fabrication with high quality stainless lines
Alignments include dial rear wheels and long bodies
Properly staffed office with knowledgeable personnel to answer questions immediately.
Tire Sales, Tire Service, Tire Mounting, & Tire Balancing
Hydraulic & Electro Hydraulic repair
Free towing within Chittenden County (if work is done at our shop)
Free shuttle service, within Chittenden County
Three to four day turnaround for transmission replacement jobs.
At a time when business' budgets are tight and manpower is limited, our dedication to service can be a real asset to your company. For example, we will help you keep track of your fleet's needs by inventorying your fleet's inspection stickers, mileage, tire wear, etc., and will notify you by phone, e-mail or fax when a service is due. If you are seeking a partner for auto service in south burlington, give us a call today.
In addition, the 4×4 center electronically documents all of the work we do for you, and can readily provide you with records for services performed with us. This is as important as it is convenient. Some vehicles today come with a 100,000 mile powertrain warranty that becomes void without complete documentation of scheduled services. These warranties usually only cover hard parts, not seals, not electronics, etc. If The 4×4 Center suspects a defective component is in warranty we will let you know and also contact the dealer to find out. The last thing we want is to have a customer pay for a part you could have had for free.
Our goal is to earn customers for life. We do that by helping you get maximum output from of your vehicle in the most cost effective way. (We can also help you get the most out of your drivers. See our 4×4 Center Driving School for Employee Defensive Driving Training.
Do you have a truck with a valuable, serviceable body with significant life left, but what's underneath is tired? The 4×4 Center's abilities and products match your needs.