4x4 Upgrades & Modifications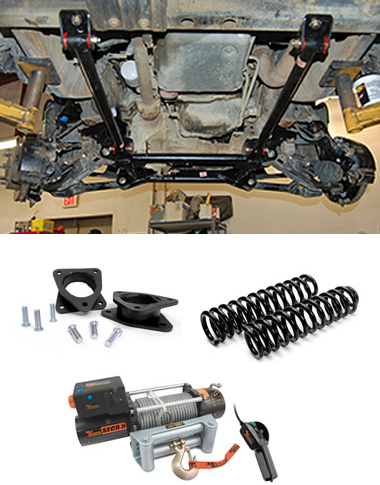 A big part of owning a 4x4 is modifying & enhancing it. Whether it's a suspension lift or a winch The 4x4 Center has the experience to give you the right advice & do a top-notch installation. Just like anything else, 4x4 accessories are no all created equally. A suspension lift for instance can either enhance or detract from the way your 4x4 drives. Making sure it is a system rather than just a collection of parts is very important and the installation is critical to the overall result. Choose The 4x4 Center for your next upgrade or build.
The 4×4 Center sells and installs:
Suspension Lifts
Larger Tires
Wheels
Winch & Bumper Systems
Auxiliary Lighting
Auxiliary Wiring
Skid Plates & Body Armor
Exhaust Systems
Roll Cages
Locking Differentials
Regears
Driveshaft Upgrades
Superchargers
Bedliners
The 4×4 Center does in house fabrication. We have the tools, the technology, and the talent to get your job done right the first time. Give us a call today and let's get the conversation started!

---
QUALITY PARTS MAKE QUALITY EXPERIENCES
We use the best parts we can source and the budget allows to ensure that quality, durability, and longevity. With so many aftermarket parts manufacturers out there, it can be hard to know who makes the best solutions. We've been doing this since 1997 and over the years have found what works best for our customers. You'll have confidence knowing your Jeep, Truck, or SUV was not only lifted by someone with experience, but also the experience that comes with using the right parts for the job. Trust us, there is nothing worse than spending a bunch of time and money to lift your vehicle, only to have it drive poorly. We see a number of these vehicles come into our shop every year and are happy to fix them, but would prefer to see you spend your time and money correctly, the first time.
---
Truck Upgrades
The 4x4 Center loves trucks - What can we say, it's in our DNA! We grew up with trucks, we drive trucks, and we work on them for a living. Would it make sense to take your Truck to a tuner shop for Service? Not really. That is why we are here. The 4x4 Center is where the local 4x4 and truck experts work. We surround ourselves, partake in, and often indulge in everything Truck. Whether you need an oil change, bigger tires, auxiliary lighting, or a full suspension lift, you won't find anyone better qualified in our area to do the work.
Our most common Truck Upgrades
3", 4", and 6" lift kits. Lift kits that ride better than stock suspension! Auxiliary lighting for your bumper, bed, grille, and more. Oversized wheel and tire packages. Supercharger Installations.
<Button - see truck upgrades - /blog/category/13>
---
Jeep & SUV Upgrades
The 4x4 Center installs upgrades on Jeeps and SUV's every day. If you're an experienced off-roader you know the fear of taking your Jeep or SUV into the mechanic.. The reality is that mechanics are usually OEM trained or receive training regarding OEM specifications - there is nothing wrong with that! Except now that your vehicle is lifted, many of those specs won't work. And attempts to set your vehicle to spec, only makes things worse. The 4x4 Center is also a driving school with a fleet of JKs, a Gladiator, Land Rover Defenders, and numerous Toyotas that travel Off-Road on a daily basis. We work on and build off-road vehicles on a daily basis. You won't hear "your tires are too big" as an excuse here, we know that there is a way to solve every problem. You'll find that working with people that love, and support the same things you do, is well worth it. Give The 4x4 Center a call when you are ready to make some upgrades to your Jeep or SUV!
<Button - see Jeep & SUV upgrades - /blog/category/12 & /blog/category/14>
---
Our most common Truck and SUV Upgrades
3"to 4" lift kits.
Auxiliary lighting for your bumper, bed, grill, and more.
Oversized wheel and tire packages.
Rock sliders.
Skid plates.
Stainless exhaust systems.
Bumpers and tire carriers.
Winches.